MEATBALLS WITH MUSHROOM CREAM SAUCE & PAPPARDELLE (MEATBALL RAGÚ)
Creamy pasta pairs beautifully with our meatballs, but the true beauty of this recipe is its adaptability. Let's explore our options…
Ingredients
1 lb pappardelle pasta
12 Casa Meatballs, prepared per package instructions (or more if you're feeling it)
Small bag of dried porcini mushrooms (alternatively, 2 cups of beef broth)
1.5 lbs of mixed mushrooms (white button, shitaki, oyster all work fine)
2 Tbsp olive oil
2 shallots, finely chopped
3 garlic cloves, minced
1 Tbsp chopped thyme
1 Tbsp plain flour
1 Tbsp tomato paste
1⁄4 cup brandy, red or white wine (optional, but very highly recommended)
1⁄3 cup thickened cream
1⁄2 cup finely grated parmesan cheese,
Chopped parsley, to garnish
Directions
Prepare meatballs according to package directions. Set aside.
Begin by placing dried porcini into a large heatproof bowl. Pour 2 cups of boiling water into bowl and allow to sit for 20-30 minutes or until mushrooms are softened. Remove mushrooms from the broth, careful to leave any silt at the bottom of the bowl. Pour the mushroom liquid through a fine strainer into a bowl, removing any particulate. Reserve the remaining mushroom liquid.
Slice your mushrooms. Mince the shallots, garlic, and thyme.
Heat a large skillet on medium low. Add oil to pan. Cook garlic, shallots, and thyme for 3-4 minutes or until shallots are softened.
Add porcini and mixed mushrooms to pan. Increase heat to medium-high and cook for 8-10 minutes or until soft and golden. Sprinkle in flour and stir to combine. Stir until no raw flour is visible in the pan.
Add tomato paste and brandy or wine. Stir to combine. Add reserved mushroom soaking liquid. and meatballs. Bring to a boil, then reduce to low and simmer for 10 minutes or until thickened and meatballs are warmed through.
Meanwhile, bring a large pot of salted water to the boil. Cook pasta according to package instructions, or until al dente, then drain.
Stir cream into mushroom ragu, and cook for a further 3-5 minutes. Season with salt and pepper. Serve mushroom ragu and meatballs over pasta.
Garnish with parmesan cheese and parsley.
Summary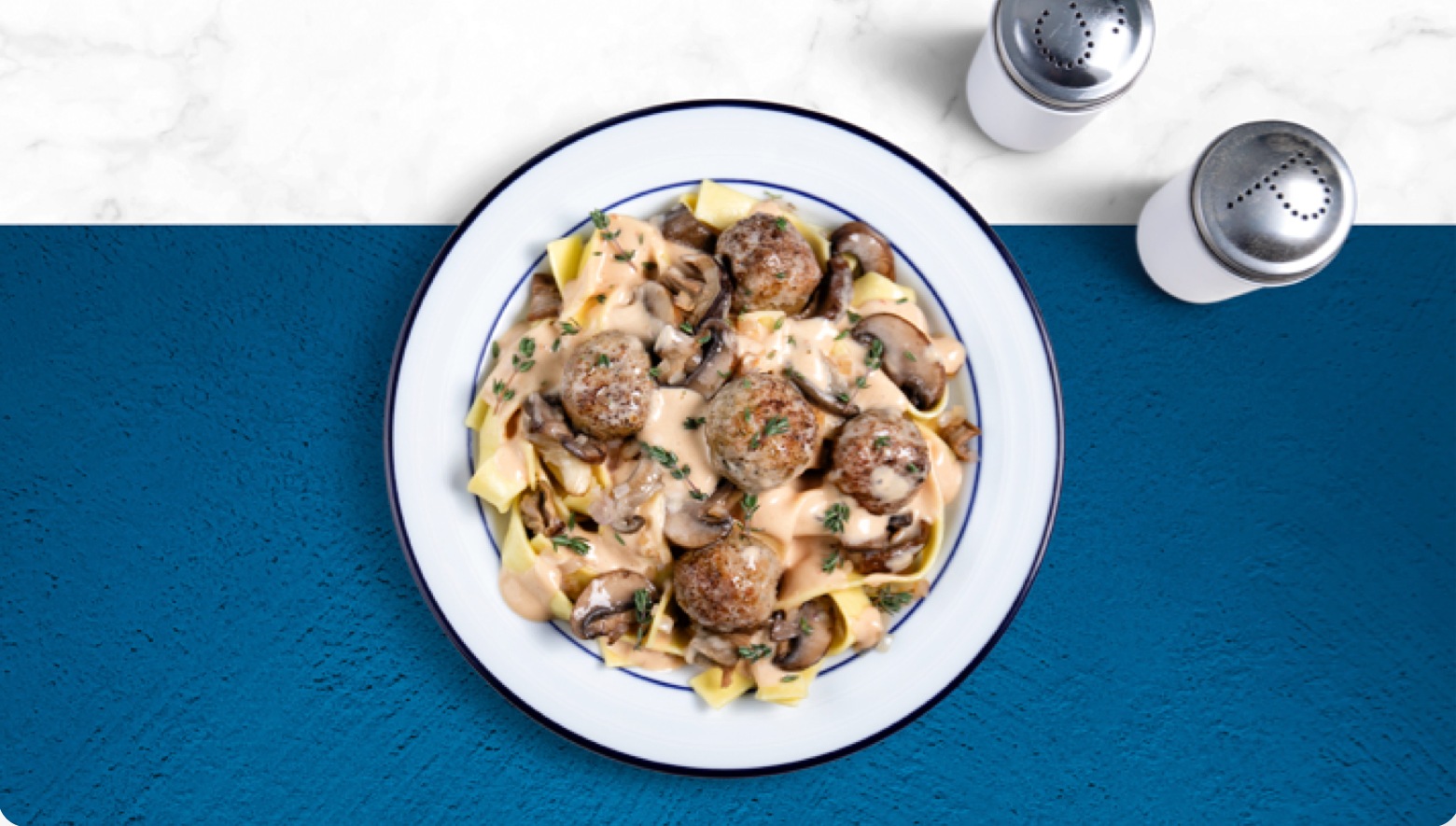 Recipe Name
MEATBALLS WITH MUSHROOM CREAM SAUCE & PAPPARDELLE (MEATBALL RAGÚ)
Author Name
Published On
Preparation Time
Cook Time
Total Time