MEATBALLS RAMEN
While this base recipe is simple, Ramen takes it to the next level. Feel free to get creative with your pasta choice and the seasonings you prefer. Pair broth + meatballs + tortellini + Italian herbs, and you have a hearty Italian soup. Broth + meatballs + orzo + Spinach + Herbs De Provence, and you have a completely new offering for your family. The options are endless.
Ingredients
18 Casa Meatballs (3 meatballs per serving)
2 ½ Tbsp toasted sesame oil
1 Tbsp grated fresh ginger
2 scallions, thinly sliced, divided, plus more for serving
¼ cup soy sauce
4 cups vegetable broth, warm
4 cups hot water
3.5 oz oyster mushrooms or 10-12 dried shiitake mushrooms
3 Tbsp mirin
¼ cup white miso paste
10" sheet of nori, crumbled
3 3-oz. pkg. instant ramen noodles or 2 (10-oz.) pkg. fresh ramen noodles
1 large head of bok choy, cleaned, trimmed and halved
Pepper to taste
Sriracha or Chili Garlic Sauce for heat (optional)
Directions
In a large pot, sauté Casa Meatballs in 1 Tbsp. toasted sesame oil according to time on package. Remove from heat and set aside.
Combine broth, water, and miso paste in a large bowl. Stir until creamy. Add mushrooms, mirin, and nori. Stir to combine. Set aside.
Heat remaining 1½ Tbsp. toasted sesame oil in the pot and heat over medium. Add sliced scallions and ginger. Cook, stirring often, until fragrant, about 1 minute. Add broth mixture and bring to a low boil.
Add ramen noodles and bok choy. Simmer for 3 minutes. Add pepper and additional toasted sesame oil to taste.
Serve in bowls topped and meatballs, and Sriracha or Chili Garlic Sauce.
Enjoy!
Summary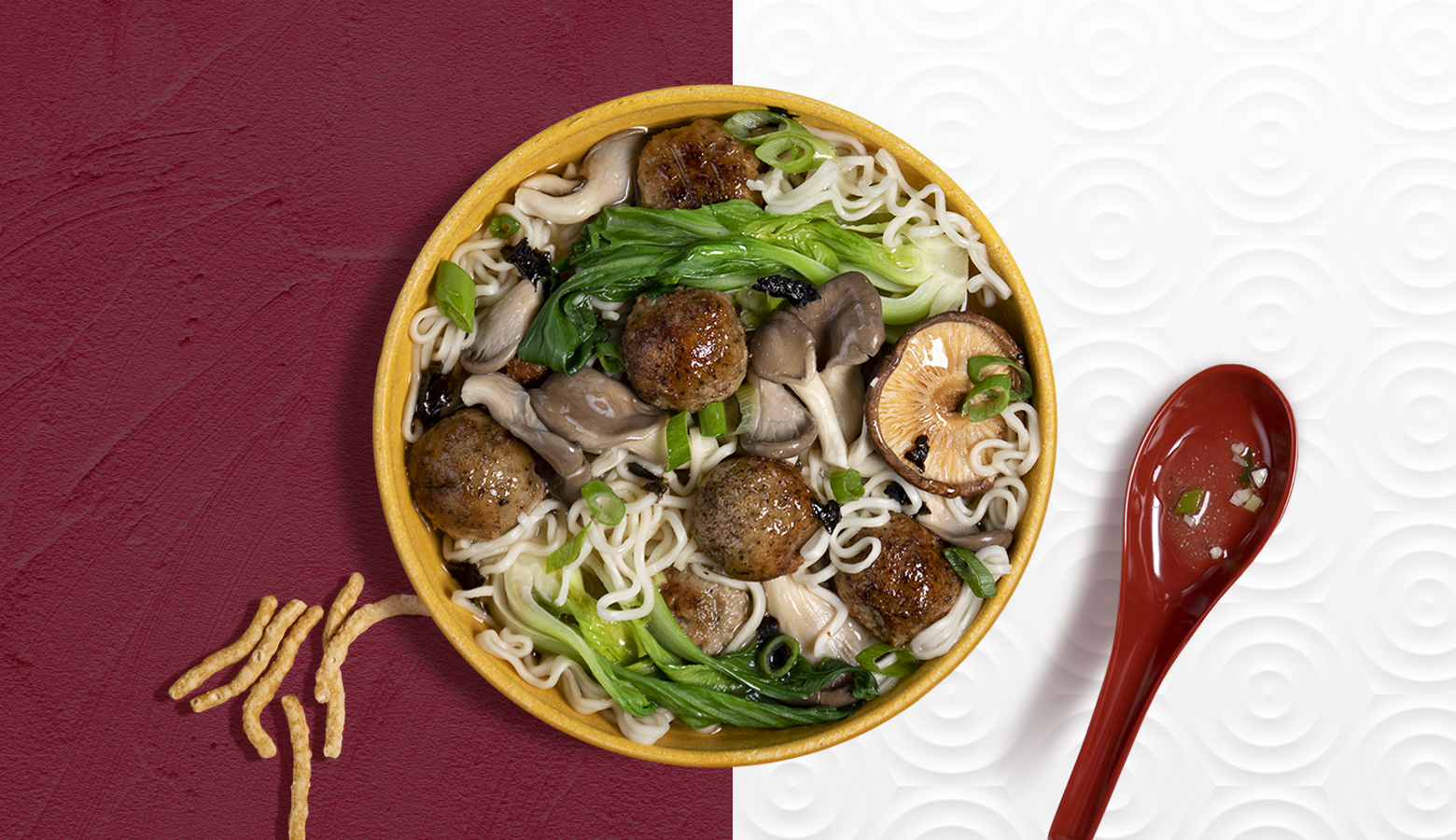 Recipe Name
Author Name
Published On
Preparation Time
Cook Time
Total Time