MEATBALL MAC & CHEESE CUPS
Cozy up with our "white" mac and cheese meatball cups. Feel free to go with your own mac & cheese recipe if you prefer or use pre-made mac and cheese to shave 15-20 minutes off the recipe time (Just pick up the recipe at the "ramekins" step). You can also use large muffin tins instead of ramekins, but you may not end up with fully encased meatballs. Enjoy!
Ingredients
Mac & Cheese
1lb elbow pasta
¼ cup butter (salted or unsalted)
¼ cup all-purpose flour
1 cup milk (we used 2%, but whole or 1% work as well)
2 cups heavy cream
1 tsp kosher salt
1 tsp black pepper
1 tsp dry mustard
2 cups shredded white cheddar
Mac & Cheese Cups
1 egg, beaten
6-8 Casa Meatballs
Nonstick cooking spray
Prepared (and cooled) Mac & Cheese
Extra ½ cup shredded white cheddar cheese
Directions
Bake meatballs per package instructions. Set aside to cool.
Change oven temperature to 350°F.
While meatballs are cooking, cook pasta to al dente according to package instructions. Drain and set aside until ready to use.
While meatballs and pasta are cooking, in a large pot on medium high heat, add butter, stirring until melted. Whisk in the flour and cook for about one minute, until all of the raw flour is no longer visible. Reduce heat to medium and slowly whisk in milk.
Once the milk is incorporated, slowly whisk in heavy cream.
Add salt, pepper, and dry mustard.
Continue whisking until it begins to bubble. Reduce heat to low and add white cheddar. Stir until melted.
Add cooked pasta, stirring until combined. Remove pan from heat and allow to sit about 10 minutes.
In a small bowl, whisk egg.
Once Mac & Cheese is cooled, mix egg with Mac & Cheese (it's important that the Mac & Cheese be cooled, otherwise you'll end up with a scrambled egg!)
Spray 6 ramekins liberally with nonstick cooking spray
Press 2 Tbsp of Mac & Cheese into each ramekin, pressing up the sides. Place one meatball in the center of each. Fill sides around meatball with roughly another 2 Tbsp of Mac & Cheese, pressing down to encase the meatballs in Mac & Cheese fully on all sides. Top each meatball with roughly 1 tsp of shredded white cheddar.
Bake 20 minutes on the middle rack.
Serve and enjoy!
*If using a muffin tin, increase meatballs to 12 (one per muffin) and allow each Mac & Cheese cup to cool for 15 minutes in the muffin tins before going around each edge with a knife before popping out onto plates.
Summary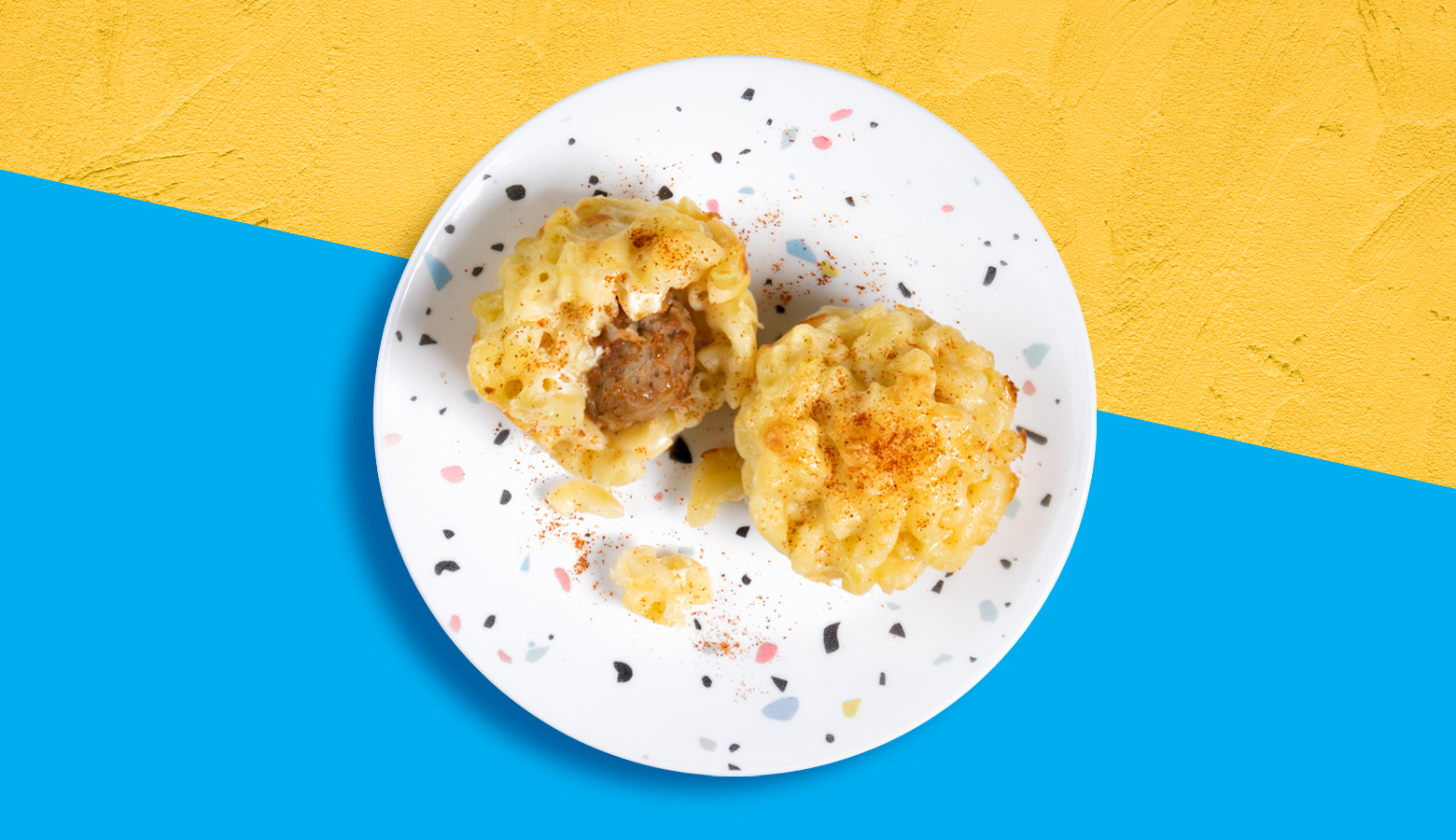 Recipe Name
MEATBALL MAC & CHEESE CUPS
Author Name
Published On
Preparation Time
Cook Time
Total Time